Sales and marketing automation driving you nuts?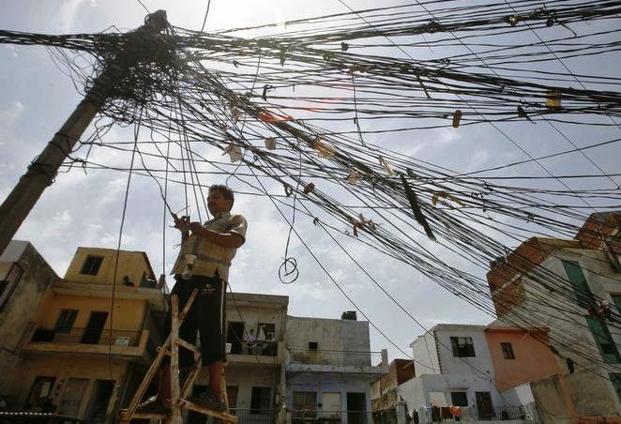 Here's the problem.
In the beginning there was Salesforce and Hubspot. Next came Marketo, Pardot and thousands more. All doing some aspect of digital marketing and prospect management.
The legacy platforms were designed and built for large enterprises. Eventually, they started selling 'lighter' versions to small and mid-sized businesses that didn't understand the complexity and technology they were getting into.
Even later the legacy platforms started bolting on missing pieces. CRM added marketing. Marketing automation added CRM. Integrations and UX became a big problem.
The worst part became 'who do I call?' when something wasn't working.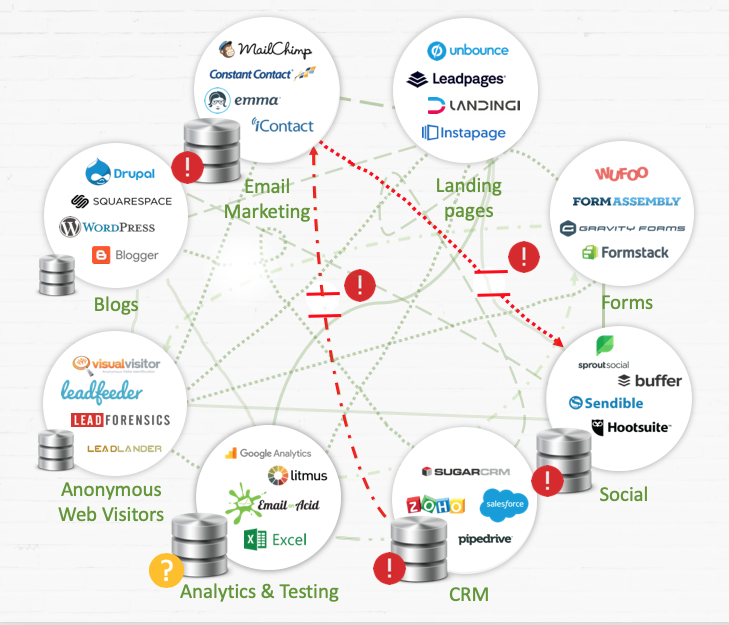 Outdated martech and CRM stack…a mess
Today, when you hop over to Capterra to look at platforms, you'll still see they're divided into 'sales automation' and 'marketing automation'.
Why isn't there a category for 'fully integrated' yet?
We believe sales and marketing are on a collision course to become one function, underpinned by a single platform. Lots of companies have already adopted this structure, led by a title like "Chief Growth Officer", "Chief Revenue Officer", or similar.
It used to be that the two functions were separated, organizationally and physically. Probably to keep them from killing each other.
Today, everyone's playing nicer. There are too many interdependencies to do otherwise.
Recent changes in platforms
About five years ago a new generation of sales and marketing automation platform emerged. Purpose built for small and mid-sized B2Bs, these platforms were designed from the ground up to integrate sales and marketing.
No more jumping around from platform to platform to get a campaign out the door, send alerts to the sales people and measure engagement.
No more 'who do I call' when something goes wrong.
Fully integrated is now the gold standard
Look again at the martech stack above.
Now imagine having all of these capabilities in one system, all wired together in the original architecture. Isn't that a lot more appealing?
The new contenders
Our favorite is SharpSpring. We use it at Harris CMO Partners and also offer it to our clients. We also like ActiveCampaign, OntraPort, SendinBlue and Keap. There are several others.
Pleasant surprises:
They cost? a lot less (CFOs love this)
Everything is in a single dashboard (users love this)
Notifications are faster and more accurate (salespeople love this)
But what about big names like Hubspot? Hubspot is a great platform, no doubt. But, like the other legacy platforms, their pricing is just not competitive with the new contenders, in our opinion.
In an age where everything is ROI-driven, doesn't it make sense for the "I" to be a shrinking number?
SUBSCRIBE
Once a month we email subscribers with a roundup of content that helps you do your job better. How-to's, guides, articles and more focused on the topics in this website.
We'd be happy to have you join us.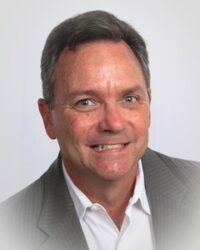 About Mike Harris
Mike is the founder of Harris CMO Partners, a Nashville based firm offering on demand CMO services for SaaS and tech companies.
He enjoys writing about what's working in B2B sales and marketing.