February is marketing metrics month for B2B marketers.
January results are in the bag and February is an ideal time to start checking the assumptions in your 2017 strategy. ?Focus on these marketing metrics, applying YTD comparisons if you have last year?s metrics.
Remember, marketing department metrics differ from CEO/CFO metrics. For the marketing troops, who are always looking forward, metrics like marketing touches, click-throughs and conversions are critical. As a rule, however, CEOs and CFOs don't care about these.
CEOs and CFOs are typically backward looking because they are accountable to investors and others for reporting financial performance. Their ?metrics are almost always financial and historical.
You need to provide both types of metrics. Work with accounting, IT and sales to find the data you need…it?s there but sometimes requires effort to find it.
Key marketing metrics for your department
Many of these tools are adding features to encompass a range of metrics. The market is saturated with offerings so you?re bound to find something for your specific needs.
1.????Website page views ? This simplest of marketing metrics, viewed as a timeline charted against your campaigns, gives you a very quick idea of whether your tactics are working. A good starter kit tool is Google Analytics, which is free. In the ?better? category are SimilarWeb, Alexa and SE Ranking.
2.????Press and analyst mentions ? If you?re getting the positive attention of industry and financial press, your positioning, content and outreach tactics are rockin? and rollin?. Two free apps are Talkwalker Alerts and Social Mention. As your needs become more complex, you can move to apps like Mention and Meltwater.
3.????Organic search rankings ? This is typically used to track your traffic and your competitors?. I like SEMRush; other top contenders include SEO ToolSet, MOZ and BrightEdge.
4.????Click-throughs and conversions by marketing channel ? This is a job for marketing automation platforms, of which there are at least 250+ available. I use Jumplead because it?s cheap and includes CRM. Other favorites include InfusionSoft and Hubspot, both of which include simple CRM and sales force automation features. Again, there are tons of these on the market so you?ll have your pick.
5.????PPC results ? Google Adwords is the go-to ?free? resource. Other excellent apps include Keyword Competitor, iSpionage and SpyFu.
Key marketing metrics for the CEO & CFO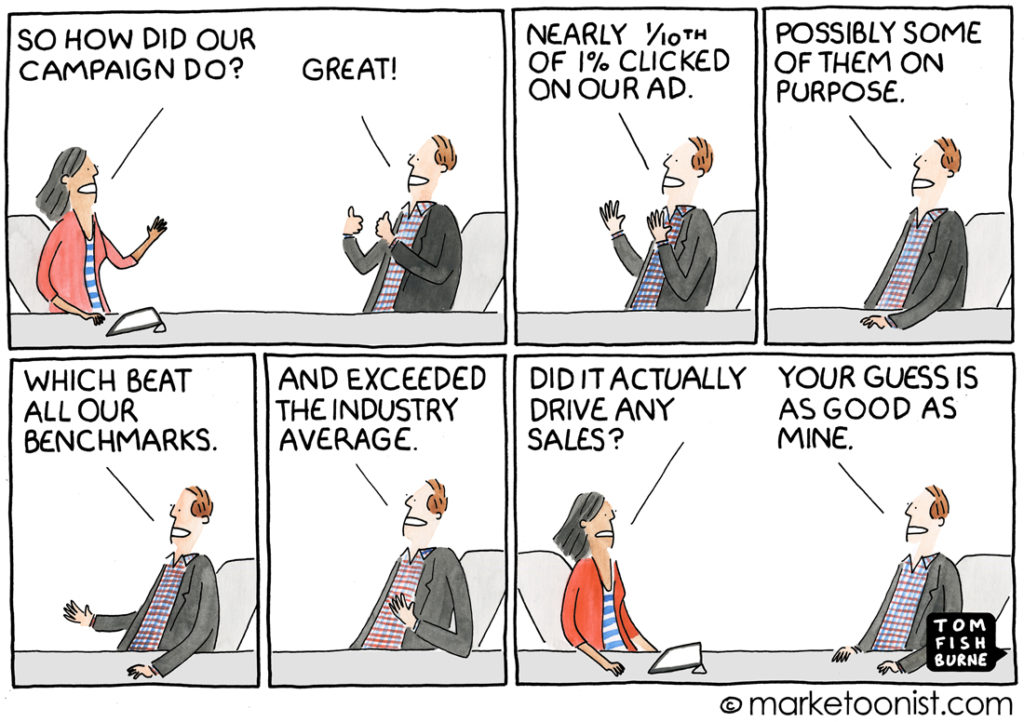 1.????CAC ? Customer Acquisition Cost is the total of all sales and marketing costs (fixed and variable) divided by the number of new customers a given time period. If your company?s products have a long sales cycle it?s best to take quarterly measurements so use Q42016 as your first report in 2017.
2.????M%-CAC ? Marketing percent of CAC is total marketing costs divided by CAC. Put the spotlight on you before someone else does!
3.????Time To Payback CAC ? This is monthly (or quarterly) CAC divided by monthly (or quarterly) gross margin. Work with your accounting department on this one.
4.????MOP ? Marketing originated pipeline is the number of qualified prospects that marketing put in the pipeline in January. This is a job for your marketing automation tool. Work with sales on this metric because, as end users, they are the ultimate decider of what makes a qualified lead.
Remember, don?t do this work in a vacuum! Work hand-in-hand with sales and accounting on the CEO/CFO metrics to gain agreement on the data that underpins the metrics. You don?t want to be embarrassed by an unforeseen challenge to your calculations.
Marketers must continue learning and applying metrics such as these because we can?t expect our peers and executive team to place value on something we can?t quantify.